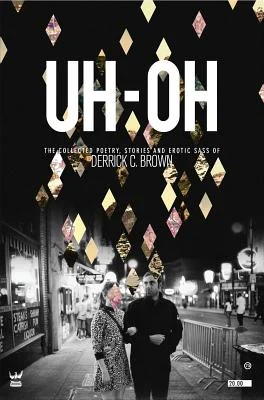 Uh-Oh: The Collected Poetry, Stories and Erotic Sass of Derrick C. Brown
$16.00
Regular price
$20.00
Step into the enchanting world of Derrick C. Brown, where comedy, poetry, and storytelling intertwine to create little, unforgettable poetic movies. With his whimsical charm and profound insight, Brown has won hearts and accolades, including the prestigious Texas Book of The Year award for Poetry.
 Derrick C. Brown is a former Paratrooper for the 82nd Airborne, a poetic force to be reckoned with, and the visionary president of an esteemed independent poetry press, Write Bloody, hailed by Forbes and Filter Magazine as one of the best in the nation.
In this delightful collection, you'll find a treasure trove of all-new, weird and elegant works, seamlessly blending the enchantment of "All The Energies of Death" with the brilliance of Derrick's previous gems: "Born in the Year of the Butterfly Knife," "Scandalabra," "Strange Light," "Our Poison Horse," and "I Love You is Back."
Prepare to embark on a literary journey that brims with wit, charm, and wildness. Derrick C. Brown's words will transport you to a realm where laughter dances hand in hand with profound truths, and every verse unveils the magic hidden in the ordinary.
If you seek poetry that exudes joy-power and surprises, "Uh-OH is the best of collection you've been waiting for.
Let Derrick C. Brown's exceptional storytelling and poetic prowess whisk you away to a world where imagination is currency and honesty is spilled across every page like paint.
---
Uh-Oh: The Collected Poetry, Stories and Erotic Sass of Derrick C. Brown
$16.00
Regular price
$20.00