DERRICK C. BROWN'S GUIDE TO THREE PERFECT DAYS OF FOOD AND TRAVEL IN RAD CITIES.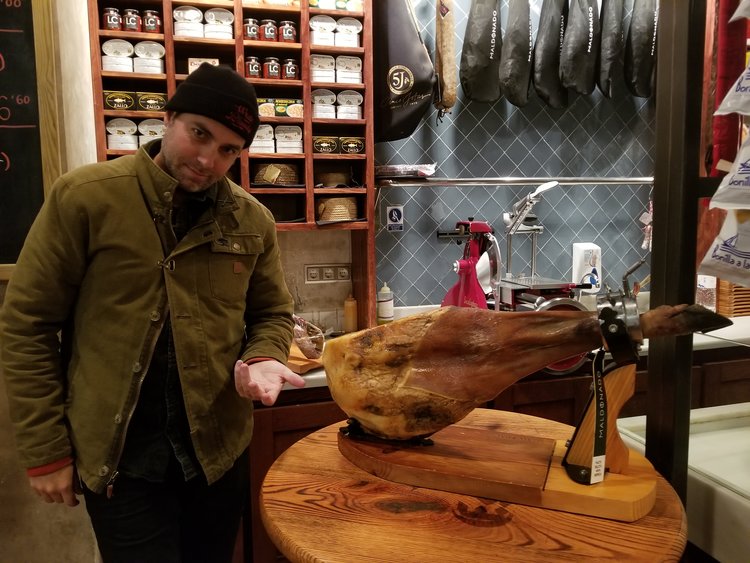 When I travel, sometimes I take a bite of food and close my eyes and nerd tears fall from the perfect bite. Sometimes I find a rope swing or moped rental and am blown away by the magic of learning from locals, being respectful as hell and not being a dumb ass when travel calls.
This blog was born when I realized one of my favorite things in life is coming back from these trips and sharing all the secrets the locals share with me.
Take three perfect days and waste no time cause life is short. I'll weed through all the funk for you and just share the jams. Enjoy! 
LOS ANGELES, CALIFORNIA
Wine bars: Covell, Tabula Rasa, The small back bar at Bar Stella, Bandini
Cocktails: The Edmon
Escape Rooms: The Basement, Labrat, Red Giant, The Orphanage
See a small rock show: Golddiggers, The echo
See a big rock show, The greek, The wiltern, The fonda
Weirdness: Bob Bakers Marionettes
Hike: Ferndell into griffith park.
Sushi: Sugarfish
Date night food and Bidet: Paley
Weird but beautiful bar: Good Times at davey Waynes, No Vacancy 
Nice Restaurants: Atrium, The Wallace, N/Naka, Tsubaki, Gwen for charcuterie
Breakfast Sammy and coffee: Division 3
Breakfast: Republique, 
Easy going great food: Bledsoes bbq, Jewel, Home State tacos
Bookstore: Skylight books
LONG BEACH, CALIFORNIA
Day 1:
Italian- Ellies- the best restaurant in Long Beach.
American - Taste, Prime by Shenandoah, Nicks on 2nd. Saint and Second. James Republic
Ramen- Hiro Nori, Second place is Jounetsu
Day 2:
Breakfast: Coffee Cup, Starling Diner, Chuck's
Mexican - Tacos Locos #3, Taqueria Mexicana
Southwest- Panxa
Vegan and Veg: Seabirds
Day 3:
Sushi- It's not good here. (San Pedro: Senfuku is good and classic, try the salmon and the eel)
Best Bookstore: Gatsby Books
Coffee: Rose Park Roasters
Wine Bar - Art du vin, District Wine
Best Margarita- Panxa
Best breweries - Brouwerij West (San Pedro) Beachwood BBQ, Trademark
Best Bars: The Hawk, Blind donkey, KC Branaghs
Best dives: The Prospector, The Crow, V Room
Best things to do: Gondola ride at gondola getaway, tour the queen mary and get a cocktail, buy a kite in seal beach and fly it at the korean bell in san pedro, hike palos verdes, spend the day at abalone cove beach, watch the windsurfers by granada and ocean after 3 pm, visit aquarium of the pacific, go to target drunk. Swim in Alamitos Bay. Get beers at ballast point and take a night water bike ride through the canals. rent them at the dock at Ballast Point.
Click on photo to enlarge.
LISBON, PORTUGAL
ABOUT THE CITY: This is my favorite place I've ever vacationed to. It feels like what San Francisco could have been without the tech boom. In fact, their bridge, Ponte 25 de Abril, is based on the Golden Gate.
DAY 1.
Get some killer food out of the way. Go visit the Time Out Market and try this: You and your partner will have a three course meal. Each of you wanders the huge Time Out Market and each of you secretly chooses a drink and an appetizer. Then a main course. Then a dessert. My gal and I ate so many different types of amazing food. We slept for 4 hours after. We woke around 4pm and roamed the docks at sunset. We ate at Agua Pela Barba. This is one of the best meals of my life. Have you ever ordered your meal and then ordered it again and wept like a sucker? I did. We went back here every night. This is one of the best restaurants I have ever eaten at. Creative seafood that is subtle and fresh. Blew my mind. I will come back to Lisbon just for this restaurant.
DAY 2.
Snack and caffeine up at Benjamin Coffee House. Take a yellow trolley up a hill. Stroll the Belém waterfront. I heard the cable cars going over the water are a great place to kiss kiss kiss! PASSEIO DAS TÁGIDES. Find an escape room called The Escape Hunt Experience. Ask to do the room where you hunt for the poet Pessoa. (It's called "Os Mistérios de Fernando Pessoa," or in English, "The Mysteries of Fernando Pessoa.") This of course hit close to home.
DAY 3.
Breakfast at Cafe de Finca. Rent a GoCar—a little yellow two-person moped where you sit side by side like a convertible car, a very small convertible that putts around town. It is fun as hell. Listen to Fado music at night., a type of desperate opera, sometimes sung by drunks, sometimes sung by pros. Cafes listed below.
WHERE TO STAY: Memmo Alfama Hotel or Valverde Hotel. There are also beautiful, verified rooms for 80 bucks a night like this one on Airbnb that we stayed in or this one for 97 bucks!
WHERE TO EAT: Agua Pela Barba JUST EAT HERE EVERY NIGHT.
WHAT TO DO: See Fado at Tasca do Chico or Senhor Vinho. RENT A GOCAR! I heard you must take a day trip to go see the castle of Sintra. Click here for info.
    Click on a photo to enlarge. 
LAKE ARROWHEAD, CALIFORNIA
ABOUT THE CITY: Located about an hour and 40 minutes from Los Angeles up in the San Bernardino mountains, Lake Arrowhead is a sweet little getaway of beauty and weirdness. They don't love outsiders using the lake unless you get a swim pass or take a waterski lesson. The weirdest thing to do is go to Santa's Village which just re-opened in 2016. It seems like only a few hundred people live here all year round. They have private beach clubs which we got a pass to from our Airbnb. It doesn't get as much snow as Big Bear. Don't go on a weekend.
DAY 1.
Archery at Santa's Village. It costs about 100 bucks for a ticket to SV, but there's a ton of weird fun stuff to do and the ticket is good for a year. Their busy season is Christmas, of course.
Eat at Stone Creek Bistro. This is one of those places that has not the best decor, but mind blowing dinner. Make a reservation on the weekend or make sure they are open when you go. This was one of the top ten meals of my life. You must end your meal with the pot du creme of Stumptown Coffee and fresh beignets. Hit the mussels, the short rib pappardelle and the grilled Ceasar. Other folks loved the shrimp and grits and the duck as well as the sticky toffee pudding. We loved the hell out of this place; we went back twice.
DAY 2.
Mountain biking at Santa's Village. Go to the Pendleton Outlet in the Arrowhead Village. Go try 10 beers at the Lakefront Tap Room. I recommend everything by Mikkeller and Modern Times. Sweet potato tots and Guinness onion rings are pretty badass for catching a game and getting freshened up. Hit Stone Creek again.
DAY 3.
Fly fishing and zip line at Santa's village. Or take a ride on the riverboat and pay 17 bucks for an hour tour. It's romantic as hell. Hit up Puglia for Pasta. Try the bolognese and gorge yourself on bread and killer olive oil.
WHERE TO STAY:
We got an Airbnb on the lake for what seemed like 70 a night, but with all the fees it was 140 and we wished we would've stayed at a hotel or bed and breakfast.
WHERE TO EAT:
https://www.tripadvisor.com/Restaurant_Review-g32087-d4826018-Reviews-Stone_Creek_Bistro-Blue_Jay_Lake_Arrowhead_California.html
https://www.yelp.com/biz/the-lakefront-taproom-bar-and-kitchen-lake-arrowhead
WHAT TO DO:
https://skyparksantasvillage.com/archery/
https://www.yelp.com/biz/arrowhead-queen-tour-boat-lake-arrowhead?osq=boat+tour
    Click on a photo to enlarge.
AUSTIN, TEXAS
ABOUT THE CITY: A lot of folks come through my old hometown and I wish I could throw everyone in the pick-up and blow their lips off with tasty grub. I wish I could show them where to drink and feel haunted. I do love having the chance to guide folks through this evolving city, but I live in Hollywood now. Some people don't know that Austin is much more than bbq and music. Below is my list, after much adventuring and hitting lame blowouts and total boner spots, here are my favorite jams from a local's perspective. Don't waste your time anywhere else.
DAY 1.
Lunch at Sway. Get the brisket curry, the pork bowl, the salt and pepper shrimp, and the oysters. Nap. Explore beers at the Draught House on Medical Parkway. Go get dinner at Dai Due and eat all the meat. Go boot scooting at the Broken Spoke.
DAY 2.
See a movie at the Alamo Drafthouse and get the cookie. Go swim at Red Bud Isle and swim across Lady Bird Lake to the secret rope swing. You can also rent paddle boards and paddle for 1.5 miles to get there. Rent at the Paddle ATX. Eat lunch at The Brewer's Table. Eat The ribs and try the freshest beers. Do an escape room downtown at The Escape Game and play the Prison Break room or The Heist room. Have dinner at Contigo and play "washers." See a band at Stubb's. Get a nightcap at Donn's Depot.
DAY 3.
Lunch - Get the oysters at Clarks. Dinner - get the burger at happy hour at Jeffery's. Night swim from 9pm to 10pm at Barton Springs Pool for free.
WHERE TO STAY: Hotel San José, Hotel Saint Cecilia, and Hotel Heywood.
WHERE TO EAT: See Below
WHAT TO DO: See Below
    DATE NIGHT RESTAURANTS
Jacoby's Restaurant and Mercantile - The ribs, the grits, the burger sound all clunky, but they are done so creatively and the outdoor river viewing area is wonderful to have a drink on.
Justine's Brasserie
Jeffrey's - THIS IS THE BEST BURGER I'VE EVER HAD. COME FOR HAPPY HOUR. IT'S FANCY.
Sway
Barley Swine
Hudson on the Bend (now Hudson's Hill Country) near Lake Travis
Parkside - For happy hour
    CHILL AND EXPLORE CREATIVE RESTAURANTS
Sway - Best oyster I have ever had. The pork bowl is mind altering.
Odd Duck
Barley Swine
Taste of Ethiopia (in Pflugerville, TX)
    PIZZA
Backspace
Home Slice Pizza
    BBQ
Franklin Barbecue - Go on a Tuesday or show up around 12:30pm and skip the line. They usually run out of brisket, but the ribs are also beyond excellent. Skip the sausage.
Micklethwait Craft Meats - Out of a trailer and good as hell.
Lamberts - great cocktails too. Good happy hour but can get crowded.
Kreuz Market (in Lockhart, TX) - You will feel like you are in hell, just from the amazing smoke room, where you order! Get that sausage.
Southside Market / Meyer's - I prefer Meyer's sausage, but I like Southside's chicken. Turkey is great too. Get that sausage and skip the brisket. Nothing beats Franklin though.
City Market (in Luling, TX) - Down home BBQ.
Taylor Cafe (in Taylor, TX) - What a dive! I love this place. This is real Texas.
    SEAFOOD (MOSTLY OYSTERS AND SUSHI)
Don't go anywhere else for sushi besides these three places. Trust me.
Uchi - Sushi
Uchiko - Sushi
Komé - Sushi. A good, cheaper option I'd hit up for lunch, but it pales compared to the other two.
Perla's - Oysters and seafood. Cool patio.
Clark's - Oysters. Pricey and excellent.
    COCKTAILS
Rio Rita - Real simple drinks in a super relaxed location. I like the spicy knees. I used to come here to read when it rained.
Ah Sing Den - It's so damn gorgeous in here! The drinks! They care about their drinks!
Weather up - Best patio drinking.
    HANGING OUT TO HAVE BEERS
Radio Coffee and Beer - It's on the Southside. Feels like home.
The Draught House - Sit indoors to feel German pub magic and sit outdoors when the weather doesn't murder you. Food trucks almost every night. Feels like England and Ireland too.
Whip In - Great Indian food. The best beer selection in Austin.
Jester King brewery - Open Thursday through Sunday, so plan accordingly. Gorgeous. Get the pizza. It's a 30 minute drive into Hill Country and you won't regret the creativity in their beers.
Austin Beer Garden - Great food too. They make their shiz.
Craft Pride - Yes, I know it's on Rainey Street, but the selection is impressive.
Austin Beerworks - Funky! Great brews.
Hops & Grain Brewing - Not great ambience, but great beers. Their Pale Mosaic beeris perfect.
Mean Eyed Cat - Nice mood inside. 5-8pm is a little corporate style. It feels like it's hanging in there. Barely.
Hopdoddy Burger Bar - Coldest beer in town, no joke. Best cheap burger too. Trust me.
Cherrywood Coffeehouse - For coffee and chill.
Uncle Billy's Brewery & Smokehouse - Get the wings and the Green Room IPA. Great post-swimming spot near Barton Springs Pool.
    STUFF TO DO
Alamo Drafthouse - Still awesome. I dig the South Lamar and Villages locations. They have theme nights too where you dress up and sing along.
Skylark Lounge - Best bar in Austin. Done. Go on a blues night.
Sahara Lounge - My fav secret spot that isn't so secret anymore. Eastside Austin.
The Violet Crown - Best cinema for cozy time.
Find the rope swing off Red Bud Isle - You gotta swim to it. It's not actually on Red Bud Isle.
Donn's Depot - Watch them dance or dance, ya dummy!
Tavern- I only go to watch Arsenal. Total Arsenal bar. Arsenal is my favorite British Premier League Soccer Team.
Spider House and Spider House's Ballroom - Great place to see a show.
The Scoot Inn - They have skee-ball. Awesome place to see a live show.
Broken Spoke - Two-steppin!
Bike - You can rent bikes on Rainey Street. Bike along Lady Bird Lake to Jacoby's! Turn left up Robert T. Martinez Jr. St. when trail runs out and then turn right on E. Cesar Chavez St., on the right about 200 yards down.
Hike along the Barton Creek Greenbelt and get wet!
Hike McKinney Roughs Nature Park
Hike McKinney Falls State Park
See an improv show at The Hideout Theatre or ColdTowne Theater
    Click on an image to enlarge.
BARCELONA, SPAIN
ABOUT THE CITY: "Crazy we don't think there's pain. Innnnnn Barcelona." - Rufus Wainwright
Barcelona is a lot of people's favorite city, but there was a lot of political unrest when I was there which made it hard to get around with no Ubers or cabs. I got a cheaper hotel away from the Gothic Quarter and ended up getting stranded on the outskirts like a goo goo. 
DAY 1.
Find the Iberico ham at Reserva Iberica or Casa Alfonso. Eat all of it. Find the Flamenco. It's everywhere. Cry like a rag.
DAY 2.
You could visit the hits, but I recommend skipping the churches and hitting Bodega la Puntual for more Iberico ham and wine and cheese. Next door is a mind blowing three-person Flamenco experience.
DAY 3.
Visit Garage Beer Co., BrewDog, Edge Brewing, CocoVail Beer Hall. Nap all night. I went when it was cold and skipped the beach. I hear the beach is the best part.
Beware of dudes holding six packs of beer. They do not want to party. Well, they do. The six pack is a signal they are selling hard ass drugs. Some mug tourists. No one mugged me because I use workout gear on my lawn that says "Body by Jake."
    Click on a photo to enlarge.