MUSIC by Derrick C. Brown and Amanda Rafkin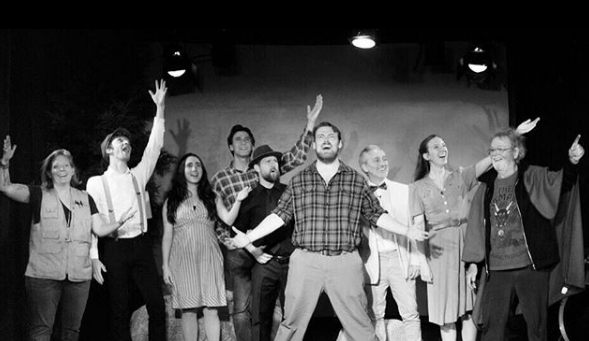 ABOUT the musical: The Lightning Howler follows the rise and fall of Ranger John Eisen, a hermit-like forest ranger deep in the Shenandoah national park who has drawn major media attention for breaking Roy Sullivan's record for being the man struck by lightning the most— seven times and surviving.
John, after his eighth strike, is courted by the local pastor to use his notoriety to help boost tourism in the conservative and expanding town of Dooms.
But as John begins to fall in love, he realizes a supernatural phenomenon taking hold inside him that allows him to call down lightning from the heavens. 
ABOUT the composer: Amanda Rafkin attended the Indiana University Jacobs School of Music on scholarship and performed nationally throughout her career as a classical pianist before going rogue and veering off into the world of musical theater. Amanda is the composer of the new musical The Lightning Howler, as well as the host, producer, pianist, and musical director of "Broadway LA: Unplugged", a recurring cabaret show that takes place in Hollywood.
Musical Numbers
EVERY NIGHT SENSATION
John, Ensemble
THE CELEBRATED MAN
Ensemble
COAT CHECK THE STRAIT JACKET (9000 NIGHTS)
John
HONE YOUR EYES
Pastor Bobby, Isabel
SMALL TOWN WONDER
Isabel
SPEAK IN DANGER
Bartender, John, Isabel, Town Drunk, Ensemble
YOU ARE TERRIBLE
John, Isabel
WHO ARE YOU?
John, Isabel
I DON'T KNOW HOW TO DANCE
John, Ensemble
intermission

GOSPEL NIGHTMARE (BIG TRAIN)
Pastor Bobby
THE HEAVENS WILL TEST YOU
Isabel
IS IT TOO SOON?
John, Isabel
THIS IS TRUE
John, Isabel, Pastor Bobby
JOHNNY PLEASE COME HOME
Isabel
DESTROYER: THE TRUEST ACT OF LOVE
John
NIGHT LIGHT
John, Isabel, Ensemble
Lyrics and melodies by Derrick Brown
Music by Amanda Rafkin