Derrick C. Brown delivers the kind of poetry that reminds you how beautiful living can be. Case in point: His short film of spoken-word verse, " A Finger, Two Dots Then Me," captures the profound beauty that can exist both in the mundane moments and the challenging ones.
When it comes to live storytelling shows, stories that end in bad sex are much more common than those that end well. Which makes sense-it's hard to come off looking good with a story about how great y...
Fort Bragg army base was suffering a number of unnecessary deaths - so they decided to attempt to save soldiers' lives through the art of musical theater.
Ep 42 - Derrick C. Brown - Aired 3.25.19 from Busted Mouth on Podchaser, aired Wednesday, 27th March 2019. Baz envisions a future in which he is mental health superhero. Write Bloody founder and poetry rock star, Derrick C Brown (brownpoetry.com) stops by and the boys talk publishing, making it, a...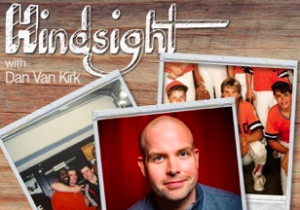 Hindsight with Daniel Van Kirk - Derrick C. Brown from Hindsight with Daniel Van Kirk on Podchaser, aired Thursday, 22nd March 2018. Comedian, Poet, and writer Derrick C. Brown is this week's guest!
7: Derrick Brown from Holly Randall Unfiltered on Podchaser, aired Wednesday, 30th August 2017. Derrick Brown is a comedian, poet, and storyteller. He is the former Paratrooper for the 82nd Airborne, and the president of Write Bloody Publishing, which has launched over 112 books of poetry. He hims...
Listen to The K Ohle with Kurt Braunohler episodes free, on demand. The K Ohle is a multi-format podcast hosted by comedian Kurt Braunohler. FORMATS INCLUDE (but are not limited to): The Boat Show - "The Best Non-Boating Boat Show on the Internet" - Kurt and his guests talk at length about boating, a topic of which they have no knowledge.
Why is there a fish on your book cover? I like the idea of shooting fish in a barrel, or even a stream. The feeling that I am constantly overdoing it, living with a sense of desperation and the eas...
Derrick C. Brown's road to poetry wasn't a very typical one. In the early '90s, the California native found himself in a foxhole as part of the 82nd Airborne
Two short poems, "Debbie" and "Eating the Whole," from poet and publisher Derrick Brown, a traveling poet as well as the publisher of Write Bloody Publishing. For more from this episode, visit http://stateofthereunion.com
In a show that takes us to Such Great Heights, poet Derrick Brown becomes Nick Cave after drinking his coffee, Portland Trailblazer Robin Lopez passes a "Nerdsketball" quiz with flying colors, and Hook and Anchor send the strains of strings and beautiful harmonies through the air.
Derrick C. Brown shows an immense amount of growth and maturity in his craft throughout Hello. It Doesn't Matter. In this, his eighth poetry collection, Brown is at his most vulnerable and his most honest
When poet Derrick Brown moved from the city of Austin to more rural Elgin, Texas, he was searching for "a peaceful plot of land to hunker down." The pastoral surroundings enabled Brown to slow down and regain his voice, spurring "Our Poison Horse," a new collection that hit shelves on Oct 1.
"At first, moving to the countryside from Austin felt like an incredible peace," says Texas-based poet Derrick C. Brown in a recent interview with PDX Magazine. "And then you begin to notice scorpions, and massive spiders, snakes, vultures and striped hornets."
Interview sauvage de Derrick C. Brown au Transbordeur après le Teatro Fiasco. http://www.brownpoetry.com/ RETROUVEZ NOUS ICI : Wordpress : https://lasyncopet...